Hey y'all,
It's the weekend again! I am excited for a calmer weekend that last week. I have plans to pick up Chinese food tonight, snuggle under my
new favorite blanket
, and read this evening. The rest of the weekend will be filled with grocery shopping, Barre3, babysitting for twin boys, church, and the Pre-K class at church. As always, here are five things I am loving this week:
one. Peaches.
Friday after work last week I went to the
For Garden's Sake
nursery to grab some Georgia peaches from the
Georgia Peach Truck
. I picked up the 25lb box and I have enjoyed them in my
fruit salsa
, at breakfast, and as a snack. I have also frozen 4 quart sized bags and I still have a handful or peaches in my fridge that will be prepped and frozen this weekend. If you are on the east coast, you can check out their schedule on their website
here
.
two. Barre3 Then Brunch.
On Saturday, Maryscott and I brought our friend,
Laura
to
Barre3 Chapel Hill
for a killer class and then we went to Elmo's for brunch. It was a fun time working out together and then enjoying a yummy meal. I had not been to
Elmo's
in years and it is still a great brunch place if you are in the Chapel Hill or Durham area. However, Rachel W's class was very tough and we were all feeling it on Sunday morning. It was rough since she retaught that same class when she subbed in on Sunday morning for my class before church. Let's just say it took a day or two to walk at a normal pace.
three. None Like Him.
This week my small group at church finished our summer study of
Jen Wilkin's None Like Him
. The premise of the book is ten attributes of God that we humans do not posses, essentially, what makes God, God and ways we attempt to take on those attributes. We had a great discussion each of the weeks I was able to attend. If you are looking for a great study for your quiet time or bible study group I would highly recommend it. There are scriptures, questions, and prayer guides at the end of each chapter to help guide a discussion or personal study.
four. Disney Soundtracks.
This week I did a throwback to
Disney soundtracks
for the background to my work in the office. I have been loving the Best of Country Sings the Best of Disney and the Hercules soundtrack a lot this week. I have to thank
Krista
for storying about Disney soundtrack sing-a-longs in the car since my family enjoys a good sing-a-long to Disney or musical soundtrack.
On Wednesday, July 31st, there is going to be a kindness movement in honor of Charlotte Robson who was diagnosed with Leukodystrophy, a rare, incurable, and terminal condition on July 31, 2018. You can read more about the kindness day and examples to participate
here
. You can keep up with Charlotte through the instagram
Charlotte's Joy here
.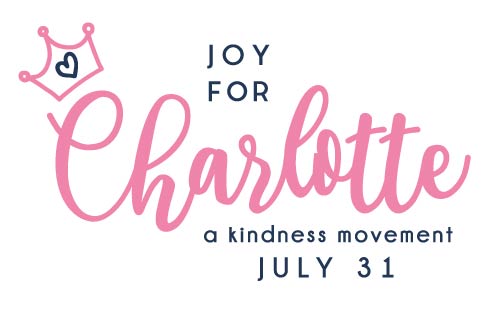 Best,