Hey y'all,
With today's post, I am all caught up on sharing my reads for the year. If you want to check out what I have read so far, here's
January
and
February's
reads. March was a big reading month as I finished up an audiobook and a physical book that I had to return mid-read to the library and wait for them to return from the holds list. This was also the first month that I had some duds in my reading life this year.
The Kiss Quotient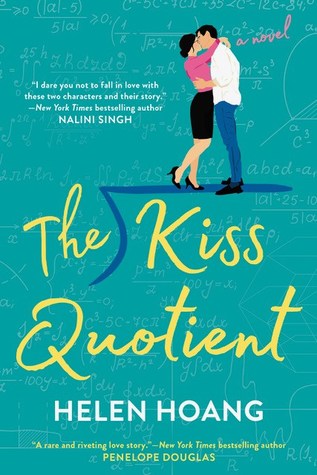 Stella Lane thinks math is the only thing that unites the universe. She comes up with algorithms to predict customer purchases — a job that has given her more money than she knows what to do with, and way less experience in the dating department than the average thirty-year-old.
It doesn't help that Stella has Asperger's and French kissing reminds her of a shark getting its teeth cleaned by pilot fish. Her conclusion: she needs lots of practice — with a professional. Which is why she hires escort Michael Phan. The Vietnamese and Swedish stunner can't afford to turn down Stella's offer, and agrees to help her check off all the boxes on her lesson plan — from foreplay to more-than-missionary position...
Before long, Stella not only learns to appreciate his kisses, but to crave all the other things he's making her feel. Soon, their no-nonsense partnership starts making a strange kind of sense. And the pattern that emerges will convince Stella that love is the best kind of logic...
This was a quick tomance that reminded me of the Wedding Date. I felt that the story really focused on the physical relationship rather than the emotional part but I was really glad to see more representation in the romance genre. 3/5 stars.
Is Everyone Hanging Out Without Me-audiobook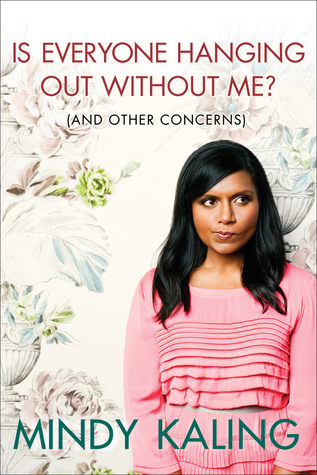 Mindy Kaling has lived many lives: the obedient child of immigrant professionals, a timid chubster afraid of her own bike, a Ben Affleck–impersonating Off-Broadway performer and playwright, and, finally, a comedy writer and actress prone to starting fights with her friends and coworkers with the sentence "Can I just say one last thing about this, and then I swear I'll shut up about it?"
Perhaps you want to know what Mindy thinks makes a great best friend (someone who will fill your prescription in the middle of the night), or what makes a great guy (one who is aware of all elderly people in any room at any time and acts accordingly), or what is the perfect amount of fame (so famous you can never get convicted of murder in a court of law), or how to maintain a trim figure (you will not find that information in these pages). If so, you've come to the right book, mostly!
Since the audiobook was under five hours, I cranked this book out one week. It focuses on Mindy's background and a few anecdotes. I was not super impressed but I think the comedian books are just not for me. I have tried a few and they all fall flat. 2.5/5 stars.
A Discovery of Witches-audiobook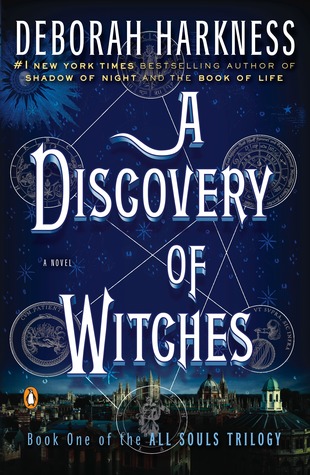 Deep in the stacks of Oxford's Bodleian Library, young scholar Diana Bishop unwittingly calls up a bewitched alchemical manuscript in the course of her research. Descended from an old and distinguished line of witches, Diana wants nothing to do with sorcery; so after a furtive glance and a few notes, she banishes the book to the stacks. But her discovery sets a fantastical underworld stirring, and a horde of daemons, witches, and vampires soon descends upon the library. Diana has stumbled upon a coveted treasure lost for centuries-and she is the only creature who can break its spell.
I was first recommended A Discovery of Witches from a mom of kids I was babysitting back in 2013. Yep, I am late to the game but when the trailer came out for the show early this year I was intrigued and requested the audiobook. If you enjoy history, fantasy, and a bit of romance I highly recommend the book. The show just began to premiere on US tv on BBC America and AMC this month. 4.5/5 stars.
Devil's Daughter
Although beautiful young widow Phoebe, Lady Clare, has never met West Ravenel, she knows one thing for certain: he's a mean, rotten bully. Back in boarding school, he made her late husband's life a misery, and she'll never forgive him for it. But when Phoebe attends a family wedding, she encounters a dashing and impossibly charming stranger who sends a fire-and-ice jolt of attraction through her. And then he introduces himself...as none other than West Ravenel.
West is a man with a tarnished past. No apologies, no excuses. However, from the moment he meets Phoebe, West is consumed by irresistible desire...not to mention the bitter awareness that a woman like her is far out of his reach. What West doesn't bargain on is that Phoebe is no straitlaced aristocratic lady. She's the daughter of a strong-willed wallflower who long ago eloped with Sebastian, Lord St. Vincent—the most devilishly wicked rake in England.
Before long, Phoebe sets out to seduce the man who has awakened her fiery nature and shown her unimaginable pleasure. Will their overwhelming passion be enough to overcome the obstacles of the past?
Only the devil's daughter knows...
I fell hard for Lisa Kleypas last year and breezed through the Wallflower series and the Ravenels. If you love a good historical romance series I reccomend starting with the Wallflowers. This book marries the two series when Phoebe and West finally have their story. The story was fun and charming and I love that Phoebe's spirit is encouraged. Plus, we got another side of West who is one of my favorite gentlemen of the books. 3.5/5 stars.
The Dinner List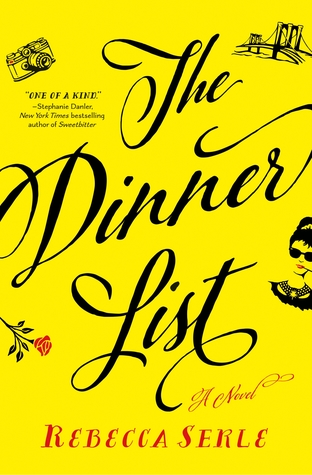 We've been waiting for an hour.
That's what Audrey says. She states it with a little bit of an edge, her words just bordering on cursive. That's the thing I think first. Not: Audrey Hepburn is at my birthday dinner, but Audrey Hepburn is annoyed.
At one point or another, we've all been asked to name five people, living or dead, with whom we'd like to have dinner. Why do we choose the people we do? And what if that dinner was to actually happen? These are the questions Rebecca Serle contends within her utterly captivating novel,
The Dinner List
, a story imbued with the same delightful magical realism as
One Day,
and the life-changing romance of
Me Before You.
When Sabrina arrives at her thirtieth birthday dinner she finds at the table not just her best friend, but also three significant people from her past, and well, Audrey Hepburn. As the appetizers are served, wine poured, and dinner table conversation begins, it becomes clear that there's a reason these six people have been gathered together.
This book took a while to get into and I even had to return it to the library and pick it back up weeks later due to the holds list. The premise of the book is the age-old question if you could dine with anyone living or dead, who would you choose? For Sabrina, this dinner is a reality on her birthday.

Her best friend, Audrey Hepburn, a favorite college professor, her deceased father, and her ex all great her for her birthday dinner. While I like the concept, I felt the book was slow and I was never captivated. There are some sweet redemptive moments and it does remind us there are always two sides to the story. 2.5/5 stars.
Duke of Midnight
Twenty years ago Maximus Batten witnessed the brutal murders of his parents. Now the autocratic Duke of Wakefield, he spends his days ruling Parliament. But by night, disguised as the Ghost of St. Giles, he prowls the grim alleys of St. Giles, ever on the hunt for the murderer. One night he finds a fiery woman who meets him toe-to-toe—and won't back down . . .
Artemis Greaves toils as a lady's companion, but hiding beneath the plain brown serge of her dress is the heart of a huntress. When the Ghost of St. Giles rescues her from footpads, she recognizes a kindred spirit-and is intrigued. She's even more intrigued when she realizes
who
exactly the notorious Ghost is by day . . .
Artemis makes a bold move: she demands that Maximus use his influence to free her imprisoned brother-or she will expose him as the Ghost. But blackmailing a powerful duke isn't without risks. Now that she has the tiger by the tail, can she withstand his ire-or the temptation of his embrace?
Do you ever accidentally read a book in the middle of a series? The Duke of Midnight is the 6th book in the Maiden Lane series and is a cute romance that has made me start back at the beginning. I loved the strong personality of Artemis as the couple struggled between obligations, expectations, and their hearts. 3/5 stars.
Shadow of Night-audiobook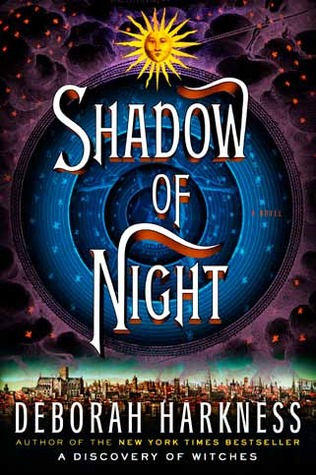 Picking up from
A Discovery of Witches'
cliffhanger ending,
Shadow of Night
takes Diana and Matthew on a trip through time to Elizabethan London, where they are plunged into a world of spies, magic, and a coterie of Matthew's old friends, the School of Night. As the search for Ashmole 782 deepens and Diana seeks out a witch to tutor her in magic, the net of Matthew's past tightens around them, and they embark on a very different—and vastly more dangerous—journey.
I, of course, picked up the next book in the All Souls Triology when I finished A Discovery of Witches. Each of the audiobooks is over 24 hours of listening time but I could have sat for more as this book takes the series into the past with more history! As an art history minor and an English major I was captivated by the Elizabethan world, Diana and Matthew are placed in during this part of the series. 4/5 stars.
The Language of Flowers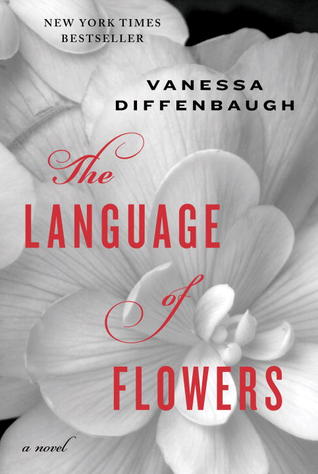 The Victorian language of flowers was used to convey romantic expressions: honeysuckle for devotion, asters for patience, and red roses for love. But for Victoria Jones, it's been more useful in communicating grief, mistrust, and solitude. After a childhood spent in the foster-care system, she is unable to get close to anybody, and her only connection to the world is through flowers and their meanings.
Now eighteen and emancipated from the system, Victoria has nowhere to go and sleeps in a public park, where she plants a small garden of her own. Soon a local florist discovers her talents, and Victoria realizes she has a gift for helping others through the flowers she chooses for them. But a mysterious vendor at the flower market has her questioning what's been missing in her life, and when she's forced to confront a painful secret from her past, she must decide whether it's worth risking everything for a second chance at happiness.
This was March's book club pick by Laura. The language of flowers tied together the communicative real language of flowers with the foster care system. If you have not researched the meaning of flowers from the Victorian era I would recommend looking into it. Ladies would decipher bouquets from beaus to communicate. The book brought up lots of conversations regarding transitions, communication, and self-worth. 3.5/5 stars.
What are you reading?