Hey y'all,
Last week I shared the books I finished in January and I'm catching up on February's reads today!
A Spark of Light - audiobook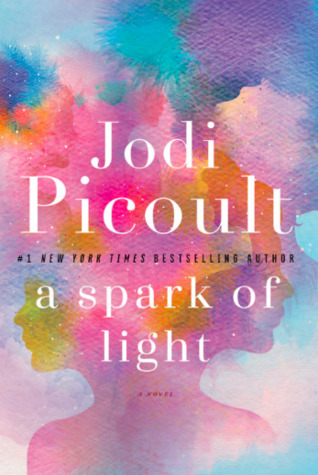 The warm fall day starts like any other at the Center—a women's reproductive health services clinic—its staff offering care to anyone who passes through its doors. Then, in late morning, a desperate and distraught gunman bursts in and opens fire, taking all inside hostage.
After rushing to the scene, Hugh McElroy, a police hostage negotiator, sets up a perimeter and begins making a plan to communicate with the gunman. As his phone vibrates with incoming text messages he glances at it and, to his horror, finds out that his fifteen-year-old daughter, Wren, is inside the clinic.
But Wren is not alone. She will share the next and tensest few hours of her young life with a cast of unforgettable characters: A nurse who calms her own panic in order save the life of a wounded woman. A doctor who does his work not in spite of his faith but because of it, and who will find that faith tested as never before. A pro-life protester disguised as a patient, who now stands in the cross hairs of the same rage she herself has felt. A young woman who has come to terminate her pregnancy. And the disturbed individual himself, vowing to be heard.
I love Jodi Picoult and this book was another wonderful story of a very difficult topic. I actually have studied the decrease in abortion clinics due to various laws when I was in college as I have a minor in Women's Studies. Picoult in interviews discussed the amount of research and shadowing she completed before writing this novel. It is filled with both sides of the argument and would make for very interesting discussion. 4/5 stars.
Things You Save in a Fire - ARC
Cassie Hanwell was born for emergencies. As one of the only female firefighters in her Texas firehouse, she's seen her fair share of them, and she's excellent at dealing with other people's tragedies. But when her estranged and ailing mother asks her to uproot her life and move to Boston, it's an emergency of a kind Cassie never anticipated.
The tough, old-school Boston firehouse is as different from Cassie's old job as it could possibly be. Hazing, a lack of funding, and poor facilities mean that the firemen aren't exactly thrilled to have a "lady" on the crew, even one as competent and smart as Cassie. Except for the handsome rookie, who doesn't seem to mind having Cassie around. But she can't think about that. Because she doesn't fall in love. And because of the advice her old captain gave her:
don't date firefighters.
Cassie can feel her resolve slipping...but will she jeopardize her place in a career where she's worked so hard to be taken seriously?
I received this book as an advanced reader copy from NetGalley and the novel comes out this fall. It's a wonderful story of family and forgiveness that weaves the lessons into prose seamlessly. This book had me in tears. I loved the ending but the whole story was a beautiful tale of connection, love, and hope. It took a few chapters to get into the story then I was hooked. 5/5 stars.
How to Walk Away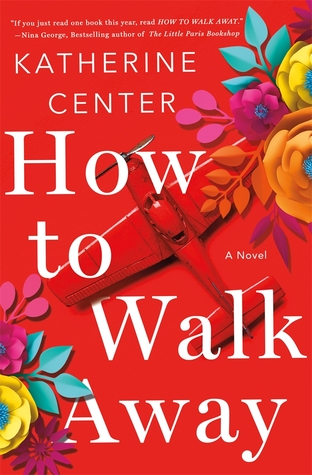 Margaret Jacobsen has a bright future ahead of her: a fiancé she adores, her dream job, and the promise of a picture-perfect life just around the corner. Then, suddenly, on what should have been one of the happiest days of her life, everything she worked for is taken away in one tumultuous moment.
In the hospital and forced to face the possibility that nothing will ever be the same again, Margaret must figure out how to move forward on her own terms while facing long-held family secrets, devastating heartbreak, and the idea that love might find her in the last place she would ever expect.
A book that starts with one of my worst fears (seriously, travel anxiety over here) unfolds a beautiful story of tragedy woven with family, love, perseverance, and hope. Like Things You Save in A Fire this
novel left me in tears! Also, can I just say I love that although there is a happy ending, not everything is magically fixed by the end, but is realistic, hard, and true. "When you don't know what to do for yourself, do something for someone else." I now want to read Katherine Center's other works. 5/5 stars.
The Hating Game
Nemesis (n.)
1) An opponent or rival whom a person cannot best or overcome;
2) A person's undoing;
3) Joshua Templeman.
Lucy Hutton and Joshua Templeman hate each other. Not dislike. Not begrudgingly tolerate. Hate. And they have no problem displaying their feelings through a series of ritualistic passive aggressive maneuvers as they sit across from each other, executive assistants to co-CEOs of a publishing company. Lucy can't understand Joshua's joyless, uptight, meticulous approach to his job. Joshua is clearly baffled by Lucy's overly bright clothes, quirkiness, and Pollyanna attitude.
Now up for the same promotion, their battle of wills has come to a head and Lucy refuses to back down when their latest game could cost her her dream job…But the tension between Lucy and Joshua has also reached its boiling point, and Lucy is discovering that maybe she doesn't hate Joshua. And maybe, he doesn't hate her either. Or maybe this is just another game.
I thought this was a sweet rom-com style novel of two assistants who are fighting for the same job but also falling in love with one another. I read it over Valentine's weekend and it is another great book to put on your pool/beach read list. I loved Lucy's strong personality and it was a believable romance. 3.5/5 stars.
Jane of Austin: A novel of Sense and Sensibility
Just a few years after their father's business scandal shatters their lives, Jane and Celia Woodward find themselves forced out of their San Francisco tea shop. The last thing Jane wants is to leave their beloved shop on Valencia Street, but when Celia insists on a move to Austin, Texas, the sisters pack up their kid sister Margot and Jane's tea plants, determined to start over yet again.
But life in Austin isn't all sweet tea and breakfast tacos. Their unusual living situation is challenging and unspoken words begin to fester between Jane and Celia. When Jane meets and falls for up-and-coming musician Sean Willis, the chasm grows deeper.
While Sean seems to charm everyone in his path, one person is immune – retired Marine Captain Callum Beckett. Callum never meant to leave the military, but the twin losses of his father and his left leg have returned him to the place he least expected—Texas.
If you didn't know I am a huge Jane Austen fan, I even have a Jane Austen action figure so I will read anything with a Jane Austen spin. This is not a retelling of any of the books but has a bit of a Sense and Sensibility spin but with a few other Austen novels sprinkled in. If you love tea, Jane Austen, and Texas, this is the book for you. Also, what kind of BBQ fan are you since I missed my Texas brisket BBQ after this book. 3/5 stars.
The Age of Innocence - audiobook
This is Newland Archer's world as he prepares to marry the beautiful but conventional May Welland. But when the mysterious Countess Ellen Olenska returns to New York after a disastrous marriage, Archer falls deeply in love with her. Torn between duty and passion, Archer struggles to make a decision that will either courageously define his life—or mercilessly destroy it.
This was my book club's February read and while I can appreciate the novel for it's Pulitzer prize win, I was not a fan. I tend to enjoy literature from this century so I think I went into the book with high expectations. There was not a lot of action but mostly character development. 2/5 stars.
What have you been reading?