Hey y'all,
As usual, I am sharing the books I finished in October. Even with a vacation with family, I only finished three books. They were all okay reads but nothing out of the ordinary. Here we go:
Her Royal Sypness
Georgie, aka Lady Victoria Georgiana Charlotte Eugenie, cousin of King George V of England, is penniless and trying to survive on her own as an ordinary person in London in 1932.
So far she has managed to light a fire and boil an egg... She's gate-crashed a wedding... She's making money by secretly cleaning houses... And she's been asked to spy for Her Majesty the Queen.
Everything seems to be going swimmingly until she finds a body in her bathtub... and someone is definitely trying to kill her.
This is the first of a series and which cute, I wasn't too impressed. If you love a good british spy novel, I say read the Pink Carnation series by Lauren Willig and skip these. I started the second book and returned it to the library as I wasn't loving it.
Tina Chen just wants a degree and a job, so her parents never have to worry about making rent again. She has no time for Blake Reynolds, the sexy billionaire who stands to inherit Cyclone Technology. But when he makes an off-hand comment about what it means to be poor, she loses her cool and tells him he couldn't last a month living her life.
To her shock, Blake offers her a trade: She'll get his income, his house, his car. In exchange, he'll work her hours and send money home to her family. No expectations; no future obligations.
But before long, they're trading not just lives, but secrets, kisses, and heated nights together. No expectations might break Tina's heart...but Blake's secrets could ruin her life.
A classic rich boy, struggling girl romance but this book included a lot of different discussions on mental health and the struggles behind success. I enjoyed the book and I am interested to read the rest of the series.
Without Merit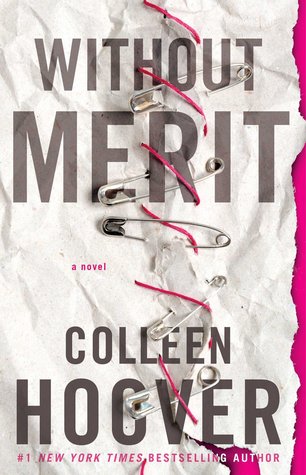 The Voss family is anything but normal. They live in a repurposed church, newly baptized Dollar Voss. The once cancer-stricken mother lives in the basement, the father is married to the mother's former nurse, the little half-brother isn't allowed to do or eat anything fun, and the eldest siblings are irritatingly perfect. Then, there's Merit.
Merit Voss collects trophies she hasn't earned and secrets her family forces her to keep. While browsing the local antiques shop for her next trophy, she finds Sagan. His wit and unapologetic idealism disarm and spark renewed life into her—until she discovers that he's completely unavailable. Merit retreats deeper into herself, watching her family from the sidelines when she learns a secret that no trophy in the world can fix.
Fed up with the lies, Merit decides to shatter the happy family illusion that she's never been a part of before leaving them behind for good. When her escape plan fails, Merit is forced to deal with the staggering consequences of telling the truth and losing the one boy she loves.
Another quick read from Colleen Hoover. I love that Colleen is not afraid to tackle some darker topics. I always know I am going to finish her books in under 3 days and I will cry at some point. Without Merit is revolves around a family and how keeping secrets could negatively effect someone to the point of attempting escape.
Best,