Hey y'all,
It's June! I always feel like I read more in the summer and that might be from only allowing "fun" reading to occur in the summer. As an English literature major, I had too much reading to complete during the school week to allow fun reading except during breaks. I am proud to say that I have read 27 of the 55 books I challenged myself to read this year. While May was not filled with reading, I did knock some books out. Here's what I read.
One hundred and twenty-five years is a long time to nurse a crush. That's how long it's been since Beth Argenis first met Cullen "Scotty" MacDonald and he instantly became the star of her most X-rated dreams. Back then, he was rescuing her from a Rogue Immortal. Now Beth's a Rogue Hunter—a damn good one. She doesn't need saving anymore, despite what Scotty thinks. What she does need is the fierce, wild desire that finally erupts between them.
Scotty has hesitated to claim Beth as his own. But one explosive kiss confirms what he's long suspected: She's his life mate. But Beth is tough, fearless, beautiful…and in immortal danger. Unless he wants to lose her forever, he'll have to rethink everything he once believed about love and destiny as well as confront an enemy who's terrifyingly close.
I liked the beginning of the Argeneau series by Sands but I feel like we are now pulling for straws on who to connect to the family. This book was a quick read and luckily not focused as much on the Rogue Hunter issue in South America that has dominated the last three in the series. I would say read the first 10 of the series and then move on. 3/5 stars.
Truly Madly Guilty
Six responsible adults. Three cute kids. One small dog. It's just a normal weekend. What could possibly go wrong?
Sam and Clementine have a wonderful, albeit, busy life: they have two little girls, Sam has just started a new dream job, and Clementine, a cellist, is busy preparing for the audition of a lifetime. If there's anything they can count on, it's each other.
Clementine and Erika are each other's oldest friends. A single look between them can convey an entire conversation. But theirs is a complicated relationship, so when Erika mentions a last minute invitation to a barbecue with her neighbors, Tiffany and Vid, Clementine and Sam don't hesitate. Having Tiffany and Vid's larger than life personalities there will be a welcome respite.
Two months later, it won't stop raining, and Clementine and Sam can't stop asking themselves the question: What if we hadn't gone?

I have loved other books by Moriarty that I loved but this book was slow and not enthralling. I got the audiobook version after the hard copy was hard to connect to and that still didn't help. I felt that the reveal of the BBQ happened pretty early and the rest of the book was unnecessary. 2/5 stars.
My American Duchess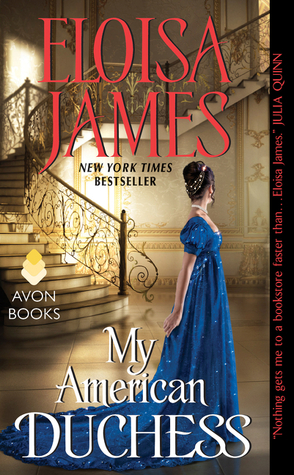 The arrogant Duke of Trent intends to marry a well-bred Englishwoman. The last woman he would ever consider marrying is the adventuresome Merry Pelford - an American heiress who has infamously jilted two fiancés.
But after one provocative encounter with the captivating Merry, Trent desires her more than any woman he has ever met. He is determined to have her as his wife, no matter what it takes. And Trent is a man who always gets what he wants.
The problem is, Merry is already betrothed, and the former runaway bride has vowed to make it all the way to the altar. As honor clashes with irresistible passion, Trent realizes the stakes are higher than anyone could have imagined. In his battle to save Merry and win her heart, one thing becomes clear: All is fair in love and war.
This book has sat as a "to-read" for a while and I finally sat down and read the whole thing. I felt it was slow to start but in the end was a cute story. 3/5 stars.
.
What's on your to-read list?