Hey y'all,
As I talked about in my favorites, I am really trying to make an effort to read more this year and it has been working. I have read 11 books now and that means I am two ahead of my pace for my GoodReads yearly challenge of 55 books. I recently found the Book by Book link up with
Rachel
and
Kristin
and their monthly challenge/prompts. It worked out that my February books all had a love & romance spin to them as romance is one of my favorite genres to read. Next month's challenge is to read a book with a green cover!
So let's get down to what I read in February:
Auburn Reed is determined to rebuild her shattered life and she has no room for mistakes. But when she walks into a Dallas art studio in search of a job, she doesn't expect to become deeply attracted to the studio's enigmatic artist, Owen Gentry.

For once, Auburn takes a chance and puts her heart in control, only to discover that Owen is hiding a huge secret. The magnitude of his past threatens to destroy everything Auburn loves most, and the only way to get her life back on track is to cut Owen out of it—but can she do it?
I sped through this book. It is a great story and has a bit of a shocking ending that I did not expect when you start to unravel everyone's confessions. They actually made an online show out of the book that you can watch. This was my first book by Hoover and I understand why she has become a popular author. I have started the online show and I think it follows the book pretty well. 3/5 stars.
Proud and beautiful Annabelle Peyton could have her pick of suitors—if only she had a dowry. Her family is on the brink of disaster, and the only way Annabelle can save them is to marry a wealthy man. Unfortunately her most persistent admirer is the brash Simon Hunt, a handsome and ambitious entrepreneur who wants her as his mistress.

Annabelle is determined to resist Simon's wicked propositions, but she can't deny her attraction to the boldly seductive rogue, any more than he can resist the challenge she presents. As they try to outmaneuver each other, they find themselves surrendering to a love more powerful than they could have ever imagined. But fate may have other plans—and it will take all of Annabelle's courage to face a peril that could destroy everything she holds dear.
I recently read the Ravenels series by Kleypas and realized the Wallflower series precedes it so I hopped on the library list for all four books in the series. The premise behind the series is that four ladies make a pact to help one another catch a husband. The first book was sweet and deals with classism that occurred in London during the beginning of the industrial revolution. 3/5 stars
Lily hasn't always had it easy, but that's never stopped her from working hard for the life she wants. She's come a long way from the small town in Maine where she grew up — she graduated from college, moved to Boston, and started her own business. So when she feels a spark with a gorgeous neurosurgeon named Ryle Kincaid, everything in Lily's life suddenly seems almost too good to be true.

Ryle is assertive, stubborn, maybe even a little arrogant. He's also sensitive, brilliant, and has a total soft spot for Lily. And the way he looks in scrubs certainly doesn't hurt. Lily can't get him out of her head. But Ryle's complete aversion to relationships is disturbing. Even as Lily finds herself becoming the exception to his "no dating" rule, she can't help but wonder what made him that way in the first place.

As questions about her new relationship overwhelm her, so do thoughts of Atlas Corrigan — her first love and a link to the past she left behind. He was her kindred spirit, her protector. When Atlas suddenly reappears, everything Lily has built with Ryle is threatened.
I think this is Hoover's most talked about book and I started it without reading the synopsis and was very surprised about the subject matter. I would say this book could be triggering to those that have experienced assault. The book deals with the questions of domestic violence and reading the author's note at the end almost broke my heart. I don't want to go into any detail as I thought it was a wonderful story that many should read. I read this as an audiobook and enjoyed the reader if you want to go that route---it was faster at my library to get the digital audio copy. 4.5/5 stars.
Headstrong American heiress Lillian Bowman has come to England to find an aristocratic husband. Unfortunately, no man is strong enough to tame the stubborn beauty's fierce will. Except, perhaps, the powerful and arrogant Earl of Westcliff—a man Lillian despises more than anyone she's ever met.

Marcus, Lord Westcliff, is famous for his icy English reserve and his supreme self-control. But something about the audacious Lillian drives him mad. Whenever they're in the same room, they can't stop themselves from battling furiously to gain the upper hand.
I think Lillian's story is my favorite out of the 3 wallflower books I have read. She is headstrong and has a lot of personality and heart. This was a fun story of love over expectations. 4/5 stars.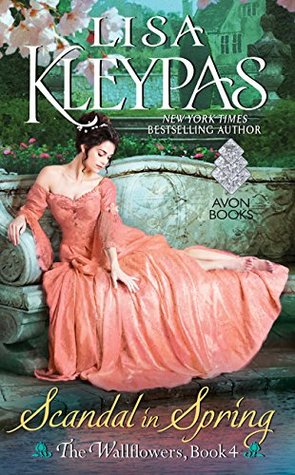 Quirky and fun-loving American heiress Daisy Bowman is the last unmarried Wallflower. Her exasperated father has informed her that if she can't find a husband by the end of her third London season, she will be forced to marry a man she hates—the ruthless entrepreneur Matthew Swift.
Daisy is horrified. A Bowman never admits defeat, so she decides to do whatever it takes to marry someone... anyone... other than Matthew. What she doesn't count on, however, is Matthew's unexpected charm, or the blazing sensuality that soon flares beyond both their control. And Daisy discovers that the man she has always hated just might turn out to be the man of her dreams.
Daisy is the sister of Lillian from It Happened One Autumn but her story is very different. Why also dealing with family expectations, Daisy's story is more whimsical and deals with some personal history. I enjoyed it and it was another fast read. 3/5 stars.
What have you been reading?

Best,