Hey y'all,
I am excited to once again be linking up with of the
Perfectly Port Family
although this was supposed to go up on Monday and I am running a bit behind. You can read my January 10 on the 10th post
here
all about 10 random facts about me. This month's theme is all about cleaning as we get into Spring the cleaning bug hits. Why I am no expert and there are often hand dishes piling up next to my sink and laundry to put away here are 10 cleaning tips and tricks I have learned over the years.
one.Emily Ley's a Simplified Life and Simplified Challenge.
I highly recommend everyone read's Emily Ley's book
A Simplified Life
and work through the
Simplicity Challenge
you can find on her Instagram and blog. The challenge has a task for each day for 31 days from clearing out the apps on your phone, putting gas in your car, to making a list of ten go-to meals. It has been so helpful in simplifying which in turn means less stuff to clean!
two.Put trash away, right away!
This is something I have been working on a lot this year. Often, I put trash down in someplace that is not the trash can. Think, I just bought a new shirt, let me cut off the tags and place those tags on the top of my dresser rather than taking the three steps to the trashcan and throwing them away. Or placing all the mail on the dining room table, rather than sorting and throwing away junk mail immediately and then organizing the important mail to the files, invitations to the fridge, etc.
three.Method Daily Shower Cleaner.
This spray
will change how you clean your bathroom. Seriously, every time you shower, you just spray down the tile, tub, and curtain and you are good to go. No scrubbing necessary. This cuts down on weekly cleaning in the bathroom and means the tub/shower can be a monthly/deep clean only item. And for under $3.00 at Target it is a no brainier (you can also get the
refill solution
for under $6 and it refills over 2x). Their
tub cleaner
is also great for that deep clean bathroom weekend.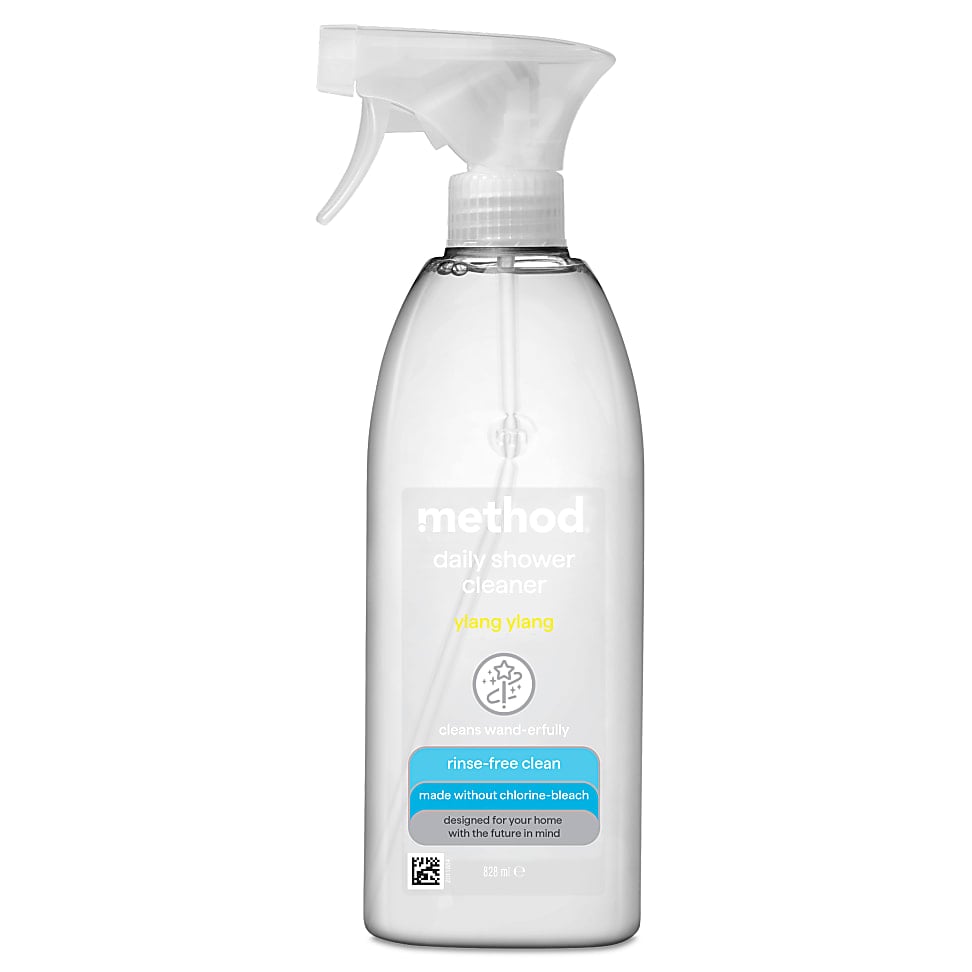 four.Take Everything out of your closet.
When cleaning out your closet, completely empty it. Try on every piece before putting them back in the closet. If it doesn't fit, feels off, hasn't been worn in a year, or has a hole it needs to find a new home. That could be donated to a local charity, taken to a re-sell/consignment store, put up on Poshmark, or given to a friend. Your closet should reflect your style and filled with pieces you love that fit your life now. Not your dream life.
five.Recycle Those Electronics.
Did you know that all Best Buy locations will recycle your old electronics? I had a laptop and printer from college that I have not used in 4+ years. I finally drove over to my local Best Buy and dropped them off to be recycled. It was a simple process and I know the batteries in the electronics are being taken care of responsibly. Go through your home and find those things-2nd generation iPod? CD player? Stereo? It felt good to know that they were recycled and I now have lots of space under my bed where those items had been living collecting dust.
six. Break Down Each Room.
I always write my to do lists in mini steps. My list might include, clean bathroom. Then under that line I make a list: shower, toilet, trash, counter tops, flooring, mirror. It helps me feel accomplished as I cross of each little step and if I don't get to all of it, I still feel like I accomplished a lot and can move that one item over. Like last weekend, I did the bathroom floors, toilet, trash, and counter tops but not the shower or mirror. Those got moved to a to-do list on Tuesday to finish up that room and it didn't feel as overwhelming to be cleaning on a weeknight as it was only two small tasks.
Examples:
Living Room
Pick Up Items
Vacuum
Fold Blankets
Bedroom
Put Away Laundry
Change Sheets
Make Bed
Clean Closet
Clear off Desk
Clean off Dresser
Trash
Vacuum
Kitchen
Dishes
Hand Dishes
Counters
Oven
Microwave
Floors
Trash
seven. Make it Easy.
I don't know about you but the easier it is to put away laundry the better. I love to do laundry but the folding and actually putting clothes away is the worst. I just use bins for my socks, scarves, tights, belts, nike shorts, bathing suits, and sports bras. This means these items do not need to me meticulously folded but rather placed in
this system
in my closet. I also keep my extra large boat tote in my room filled with my at home exercise equipment like my B3 core ball, kettle bell, stretch band, etc.
eight. Be Realistic.
As someone who moved almost every three years as a kid I have learned the power of a good purge. Do I really need 20+ pens in my desk drawer. Nope. I donated a huge bag of pens, pencils, markers, and highlighters to some of my teacher friends instead. My parents kept a
trunk
for each of us for our sentimental things. That meant only a few items from every school year made it in but looking through the trunk now is such a treasure and I on occasion still add to it. From the baby bracelet at hospital, the first stuffed animal ever, to my favorite college t-shirt they all live in that trunk in the storage unit attached to my apartment deck. My parent's were realistic in the fact that I did not need every piece of artwork from elementary school but I did need the book I made, some of my book reports, and the about me pages. Be realistic about what is sentimental and needs to be kept along with what is necessary. Ten black dresses, maybe whittle it down to five. 20 pairs of flats, just keep the favorites that are more wearable with outfits. Remember, the simpler and less items you have the easier it is to keep clean.
nine.Prioritize.
With my busy schedule, not every room gets cleaned every weekend. That's okay. I try to prioritize the kitchen as that is a shared space and you want to make sure it is clean so no one get's sick. After that, I prioritize laundry and bathrooms. Vacuum doesn't happen every week but it happens at a minimum of once every three weeks and we mini vac the couch weekly because of Max cat. That works for our apartment. For you it might mean the dining room dusting is at the bottom of the list and that is okay!
ten. Reward Yourself.
When you are done with the deep clean for spring, all the items have been donated (including those old coffee cups you never use), the electronics recycled, and the house looks great. Treat yourself. It might be a
new decorative basket
for the blankets in the living room so that you don't have to keep folding them, a
fun new wall hanger for the mail
or a nice massage. Just don't forget that cleaning and organizing is a way of self care and will set you up for success.
What are some of your helpful spring cleaning tips?
Favorite cleaning products?