Hey y'all,
I am really excited for today's post as I am co-hosting this month's What We're Reading Wednesday with Stephanie of Wife, Mommy, Me and Dara of Not in Jersey.
Each month, Stephanie will be sharing 2 book lovin' bloggers with on her blog. The co-host will be sharing their monthly reading recaps along with answers to a book themed Q&A.
1. What is the one book from your 2017 READ shelf that you'd recommend to a friend? Homegoing by Yaa Gyasi
2. What's the longest book you've ever read? A very long time ago I read Les Miserables (1488 pages).
3.
Which author is your go to when looking for a new book to start?
I don't think I have one. I love Jodi Picoult, but I've already read all of her currently released books!
Read Dara's January book recap here:
What I've Been Reading
Jess from Just Jess
1. What is the one book from your 2017 READ shelf that you'd recommend to a friend? The Woman in Cabin 10 for a fun suspenseful thriller and Small Great Things if they want to be more engaged with the book as it deals with race relations in our nation.
2. What's the longest book you've ever read? Mists of Avalon in 8th grade. It is 867 pages. If I had read the Lord of the Rings Trilogy in one volume it would win at 1216 pages.
3.
Which author is your go to when looking for a new book to start?
Sherrilyn Kenyon is my favorite

author and since she writes three main series there is always a new book to grab.
Read Jess's January book recap here:
What We're Reading (Janurary)
Stephanie host of What We're Reading Wednesday and blogger at Wife Mommy Me
1. What is the one book from your 2017 READ shelf that you'd recommend to a friend? Bright Side by Kim Holden. I love the story, the way Holden writes, her storytelling grabs you.
2. What's the longest book you've ever read? The Goldfinch by Donna Tartt. It's 771 pages long. At times, I wanted to give up. It's a long book, very detailed and at times confusing. But I am so glad that I stuck it out. It's a fantastic book.
3.
Which author is your go to when looking for a new book to start? Jojo Moyes. Without a doubt. I've never read a novel by her that didn't leave me wanting more. Her best book? Me Before You.
Now that we have met everyone, let's get on to what I have been reading recently:
Recently, I have really been into historical romances. They are always my favorite when I need a bit of a brain break and with the holidays being jam packs, some nice romance reads were what the doctor ordered.
Devon Ravenel, London's most wickedly charming rake, has just inherited an earldom. But his powerful new rank in society comes with unwanted responsibilities . . . and more than a few surprises. His estate is saddled with debt, and the late earl's three innocent sisters are still occupying the house . . . along with Kathleen, Lady Trenear, a beautiful young widow whose sharp wit and determination are a match for Devon's own.
Kathleen knows better than to trust a ruthless scoundrel like Devon. But the fiery attraction between them is impossible to deny—and from the first moment Devon holds her in his arms, he vows to do whatever it takes to possess her. As Kathleen finds herself yielding to his skillfully erotic seduction, only one question remains: Can she keep from surrendering her heart to the most dangerous man she's ever known?
I didn't feel very connected in Cold-Hearted Rake to the main charachters of Devon and Kathleen but was more interested in West, Devon's brother, and the relationship forming between Helen and Winterborne (which is expanded more one in the second book). I thought it was good but not my favorite. It did start a new series so there is hope for a book focused on West. I did also read the third book of the series, Devil in Spring, before realizing it was part of a series so I am not sure if I would have continued on in the series if not for the interjection of Helen and Rhys Winterborne's story in this particular novel.
Savage ambition has brought common-born Rhys Winterborne vast wealth and success. In business and beyond, Rhys gets exactly what he wants. And from the moment he meets the shy, aristocratic Lady Helen Ravenel, he is determined to possess her. If he must take her virtue to ensure she marries him, so much the better.
Helen has had little contact with the glittering, cynical world of London society. Yet Rhys's determined seduction awakens an intense mutual passion. Helen's gentle upbringing belies a stubborn conviction that only she can tame her unruly husband. As Rhys's enemies conspire against them, Helen must trust him with her darkest secret. The risks are unthinkable… the reward, a lifetime of incomparable bliss.
I enjoyed this book more than the first in the series as it was focused more on Rhys and Helen. I liked that it was a shift from girl meets eligible member of English society but rather played on the social status and change of the noble classes with the wealthy merchant class. Also, Helen always seemed so interesting in the first of the Ravenels books and I'm glad she was not overlooked.
Josephine Atworthy is shocked by the goings-on at her rich neighbor's house party. Quite shocked. But her demure charm beguiles a mysterious nobleman, who begs a kiss—then another. And in a twinkling, they may be falling head over heels in love.
I started the Naked Nobility series in the Fall and this novella helps to bridge the gap before book six. I enjoyed the story but since it was written as a novela, I felt like the story moved two fast and that there was not a lot of character development to have you get attached to any of the characters. I wish this was a full novel as I loved the idea of the Valentine's ball and the scholarly interests of Jo and the Earl of Kendery with their correspondence over latin translations.
Tess, an aspiring seamstress, thinks she's had an incredibly lucky break when she is hired by famous
designer Lady Lucile Duff Gordon to be a personal maid on the
Titanic's
doomed voyage. Once on board, Tess catches the eye of two men, one a roughly-hewn but kind sailor and the other an enigmatic Chicago millionaire. But on the fourth night, disaster strikes.
Amidst the chaos and desperate urging of two very different suitors, Tess is one of the last people allowed on a lifeboat. Tess's sailor also manages to survive unharmed, witness to Lady Duff Gordon's questionable actions during the tragedy. Others—including the gallant Midwestern tycoon—are not so lucky.
On dry land, rumors about the survivors begin to circulate, and Lady Duff Gordon quickly becomes the subject of media scorn and later, the hearings on the Titanic. Set against a historical tragedy but told from a completely fresh angle, The Dressmaker is an atmospheric delight filled with all the period's glitz and glamour, all the raw feelings of a national tragedy and all the contradictory emotions of young love.
This book is actually my book club selection for the month and since I am hosting this month I picked the book for the group. My book club enjoyed our last historical fiction choice so I decided to go with that same genre and picked this novel which has been on my to-read list for years. The book focuses on what happened after the Titanic sank. I think we often only focus on the fact that the ship sank by iceberg that I did not recall learning about the trials that followed. The characters Lady Lucile Duff Gordon and Cosmo Duff Gordon are real survivors of the Titanic that were involved in the court proceedings that occurred in London following the inquiry here in the US. I think if you enjoy historical fiction you would enjoy this novel. It deals with the difficulties in the aftermath of the ship with a young woman learning to grow out of the societal structure of England here in the US while also juggling a bit of romance and recovering from the shipwreck.
Next on my reading list is King's Cage, the third in the Red Queen series.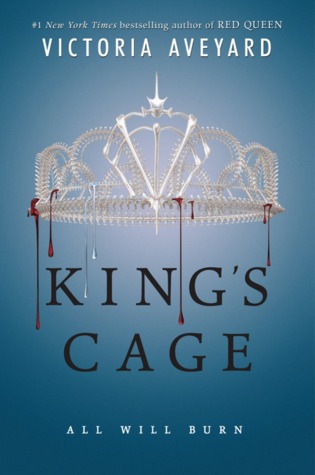 Thank you for joining us for What We're Reading Wednesday and I hope you link up with us below!
We look forward to sharing and discovering books with you! -- #WWRW2018
Also, if you are interested in hosting, please email Stephanie of WMM at
sacox65@gmail.com
.