Hey y'all,
For the past few years I have made a reading challenge on
Goodreads
and in 2017 I exceeded the 50 books I wanted to complete. Funny enough though, out of my favorite books, the majority of them I actually grabbed as audio books from my library. As I told you earlier this week in my lessons from 2017, I learned that I enjoy a good audio book on my commute in the mornings (I always call my mom on my way home). So grab your to-read list (or pull up
GoodReads
) and get reading!
The Woman in Cabin 10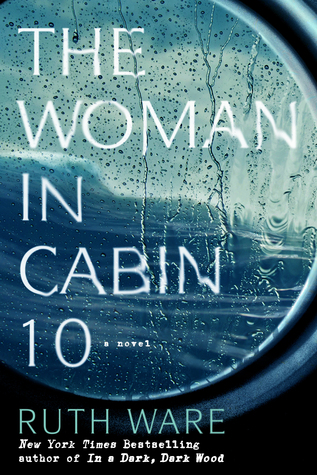 Lo Blacklock, a journalist who writes for a travel magazine, has just been given the assignment of a lifetime: a week on a luxury cruise with only a handful of cabins. At first, Lo's stay is nothing but pleasant: the cabins are plush, the dinner parties are sparkling, and the guests are elegant. But as the week wears on, frigid winds whip the deck, gray skies fall, and Lo witnesses what she can only describe as a nightmare: a woman being thrown overboard. The problem? All passengers remain accounted for—and so, the ship sails on as if nothing has happened, despite Lo's desperate attempts to convey that something (or someone) has gone terribly, terribly wrong.
My book club read, Ruth Ware's In a Dark, Dark Wood, and even while still reading it I grabbed the Woman in Cabin 10 from the library as my next read. I loved Imogen Church reading the novels and while I am not a huge suspense novel fan, I do enjoy a good mystery mixed in with my usual historical romance novels. I did not expect most of the twists and turns which is great in a novel like this one.
The Magnolia Story
The Magnolia Story is the first book from Chip and Joanna, offering their fans a detailed look at their life together. From the very first renovation project they ever tackled together, to the project that nearly cost them everything; from the childhood memories that shaped them, to the twists and turns that led them to the life they share on the farm today.

They both attended Baylor University in Waco. However, their paths did not cross until Chip checked his car into the local Firestone tire shop where Joanna worked behind the counter. Even back then Chip was a serial entrepreneur who, among other things, ran a lawn care company, sold fireworks, and flipped houses. Soon they were married and living in their first fixer upper. Four children and countless renovations later, Joanna garners the attention of a television producer who notices her work on a blog one day.
I think anyone who enjoys the show would enjoy the book. I grabbed this as an audiobook and it was fun to listen to Chip and Jo read the story and feel like you were sitting down to them telling you about their lives, their start, their struggles, and where they are today.
Eligible (Austen Project #4)
A modern version of Pride and Prejudice: Liz is a magazine writer in her late thirties who, like her yoga instructor older sister, Jane, lives in New York City. When their father has a health scare, they return to their childhood home in Cincinnati to help and discover that the sprawling Tudor they grew up in is crumbling and the family is in disarray.

Youngest sisters Kitty and Lydia are too busy with their CrossFit workouts and Paleo diets to get jobs. Mary, the middle sister, is earning her third online master's degree and barely leaves her room, except for those mysterious Tuesday-night outings she won't discuss. And Mrs. Bennet has one thing on her mind: how to marry off her daughters, especially as Jane's fortieth birthday fast approaches.

Enter Chip Bingley, a handsome new-in-town doctor who recently appeared on the juggernaut reality TV dating show Eligible (aka the Bachelor/Bachelorette). At a Fourth of July barbecue, Chip takes an immediate interest in Jane, but Chip's friend, neurosurgeon Fitzwilliam Darcy, reveals himself to Liz to be much less charming. . . . And yet, first impressions can be deceiving.
This was a fun lighthearted novel perfect for a summer beach day or a snow day curled up by the fire. If you love Jane Austen and modern retellings I highly recommend this one.
Grace Not Perfection: Embracing Simplicity, Celebrating Joy
As a busy wife, new mother, business owner, and designer, Emily Ley came to a point when she suddenly realized she couldn't do it all. She needed to simplify her life, organize her days, and prioritize the priorities. She decided to hold herself to a standard of grace rather than perfection. This mantra led to the creation of the Simplified Planner®, my current planner favorite!
Grace, Not Perfection takes this message from a daily planner to an inspirational book that encourages women to simplify and prioritize. This book gives women tangible ways to simplify their lives to give space to what matters most. With a focus on faith, Emily reminds readers that God abundantly pours out grace on us—and that surely we can extend grace to ourselves.
I loved the practicality of the book and I love Emily Ley and her journey to help women simplify to uncover their joy. This book really helped me last year start my simplifying journey and lead me to this upcoming year of contentment. I also loved A Simplified Life from Emily. I read it over Thanksgiving and have already decluttered a lot of my home!
Small Great Things
Ruth Jefferson is a labor and delivery nurse at a Connecticut hospital with more than twenty years' experience. During her shift, Ruth begins a routine checkup on a newborn, only to be told a few minutes later that she's been reassigned to another patient. The parents are white supremacists and don't want Ruth, who is African American, to touch their child. The hospital complies with their request, but the next day, the baby goes into cardiac distress while Ruth is alone in the nursery. Does she obey orders or does she intervene?
Ruth hesitates before performing CPR and, as a result, is charged with a serious crime. Kennedy McQuarrie, a white public defender, takes her case but gives unexpected advice: Kennedy insists that mentioning race in the courtroom is not a winning strategy. Conflicted by Kennedy's counsel, Ruth tries to keep life as normal as possible for her family—especially her teenage son—as the case becomes a media sensation. As the trial moves forward, Ruth and Kennedy must gain each other's trust, and come to see that what they've been taught their whole lives about others—and themselves—might be wrong.
This book was selected for my book club and I have loved Jodi Picoult as an author for a while. The story sparked a lot of conversation and it was a very timely story in regards to race relations and tensions that are current to the country. This was a lovely audiobook with Audra McDonald reading the part of Ruth.
What was your favorite book of 2017?
Best,