Hey y'all,
I recently picked up a few different devotional books when Christian Book Distributors had their summer blowout sale. I have started to read two of them and thought I would share what I currently have on my to-read list in case you wanted to add them to your to-read list. Please also offer suggestions in the comment section. I am always looking for personal development and faith development books to read.
The enemy wants us to feel rejected . . . left out, lonely, and less than. When we allow him to speak lies through our rejection, he pickpockets our purpose. Cripples our courage. Dismantles our dreams. And blinds us to the beauty of Christ's powerful love.
With biblical depth, gut-honest vulnerability, and refreshing wit, Lysa helps readers:
Release the desire to fall apart or control the actions of others by embracing God-honoring ways to process their hurt.
Know exactly what to pray for the next ten days to steady their soul and restore their confidence.
Overcome the two core fears that feed our insecurities by understanding the secret of belonging.
Stop feeling left out and start believing that "set apart" does not mean "set aside."
End the cycle of perceived rejection by refusing to turn a small incident into a full blown issue.
Human beings were created to reflect the image of God--but only to a limited extent. Although we share important attributes with God (love, mercy, compassion, etc.), there are other qualities that only God possesses, such as unlimited power, knowledge, and authority. At the root of all sin is our rebellious desire to be like God in such ways--a desire that first manifested itself in the garden of Eden. In None Like Him, Jen Wilkin leads us on a journey to discover ten ways God is different from us--and why that's a good thing. In the process, she highlights the joy of seeing our limited selves in relation to a limitless God, and how such a realization frees us from striving to be more than we were created to be.
Written in Shauna's warm and vulnerable style, this collection of essays focuses on the most important transformation in her life, and maybe yours too: leaving behind busyness and frantic living and rediscovering the person you were made to be. Present Over Perfect is a hand reaching out, pulling you free from the constant pressure to perform faster, push harder, and produce more, all while maintaining an exhausting image of perfection.
Shauna offers an honest account of what led her to begin this journey, and a compelling vision for an entirely new way to live: soaked in grace, rest, silence, simplicity, prayer, and connection with the people that matter most to us.
In these pages, you'll be invited to consider the landscape of your own life, and what it might look like to leave behind the pressure to be perfect and begin the life-changing practice of simply being present, in the middle of the mess and the ordinariness of life.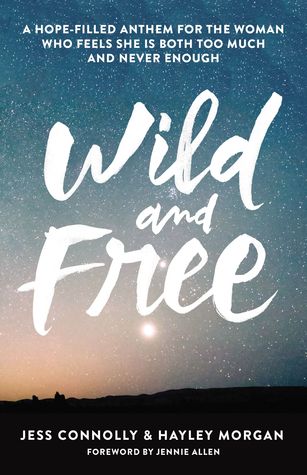 Wild and Free is an anthem and an invitation in equal parts to find freedom from the cultural captivity that holds us back, and freedom to step into the wild and holy call of God in our lives. With fresh biblical insight tracing all the way back to Eve and a treasury of practical application, Jess and Hayley reveal how women today can walk in the true liberty we already have in Jesus.
Because you don't have to be everything to everyone. You don't have to try so hard to button it up and hold it together. And you certainly don't have to quiet the voice that God gave you when he created you to sing. Wild and Free will help you shake off the lies of insecurity in your life, and step forward to maximize your God-given influence for his glory and the world's good.
When Love Does, life gets interesting. Each day turns into a hilarious, whimsical, meaningful chance that makes faith simple and real. Each chapter is a story that forms a book, a life. And this is one life you don't want to miss.
Light and fun, unique and profound, the lessons drawn from Bob's life and attitude just might inspire you to be secretly incredible, too.
This one's for the lovers and the sufferers. For those whose hopes and dreams and love grew so large it broke their willing hearts. This one's for the busted ones who are ready to bust free, the ones ready to break molds, break chains, break measuring sticks, and break all this bad brokenness with an unlikely good brokenness. You could be one of the Beloved who is broken --- and still lets yourself be loved.
You could be one of them, one who believes freedom can be found not only beyond the fear and pain, but actually within it.
You could discover and trust this broken way --- the way to not be afraid of broken things.
What are your favorite faith based books?
Favorite personal development books?
Best,